USA Land Surveyor has a two-fold purpose; first, to help land surveyors with their local online marketing efforts, and second, to provide a directory of local land surveyors. This page is about the first purpose – helping you with your online marketing efforts.
Get Higher Rankings on Search Engines (SEO)
You have ALL heard of SEO – from those incessant Robocalls by people telling you they work for Google and want to help you with your listing. I hope you haven't given in to that crap. I hate Robocalls. But I CAN help you with your Search Engine Optimization. That is just a fancy way of saying that I'll get you found on the front page of Google, preferably in the top position. I've proved it with my own business.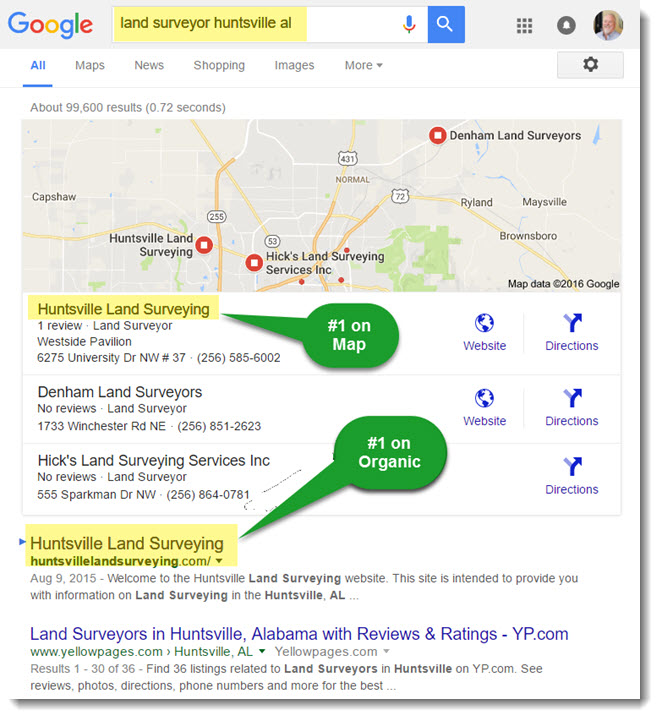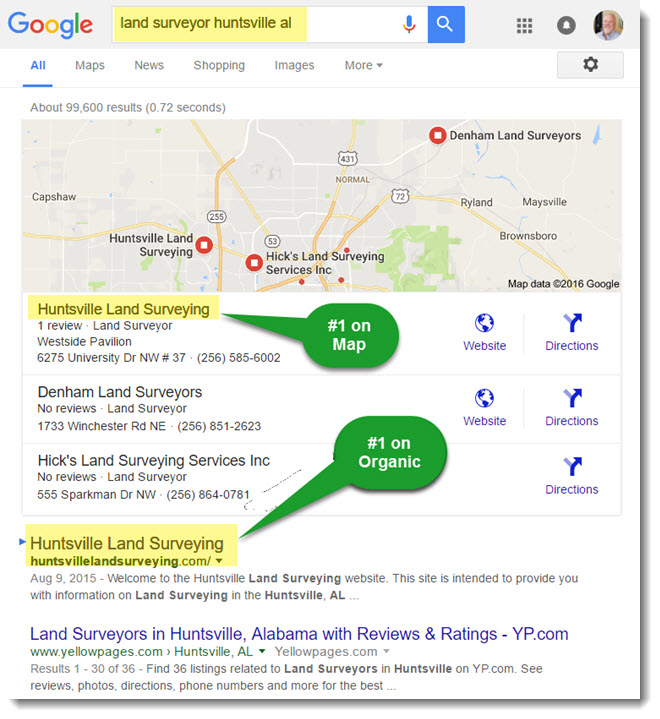 Get More Business Calls
I want to take this a step further for you though. I don't just want you to be ranked number one, I want your phone to ring with eager clients, who need your services. Once you get the call, you have to close the deal. To close more deals, you MUST get more calls. What if you got a Text Message each time you got a call? You know immediately that your marketing is working for you.
Do you have a system for taking in the calls and getting out the proposals within 12 hours? IF not, I will provide my system for calls intake. Get your receptionist to do almost all of this step. I will provide training for this also.
Tracking Marketing Results is Paramount
If you don't know whether you are getting calls from your marketing efforts, how will you know if the money you are spending is being spent wisely. How many calls did you get from that radio commercial (I got 3 in 6 months). How many calls from the billboard?
We send you a text every time someone calls from your website. You know immediately that your marketing dollars are working. We'll also send that report at the end of the month.
Business Listings in Online Directories
Business Listings on the major online directories help you get another position on the first page of the Search Engines. Google My Business, as it's currently called, is the top one for the Google search engine. This is the most important one for you to do, in my opinion. And then get some reviews.
The Paid Directories are hit or miss:
YellowPages.com is a good one but it will cost a little each month. Don't pay over $35/month for it. And, you'll be joined by anyone else who is willing to pay them.
AngiesList.com will get you found, but it costs even more than YellowPages, and again, you're competing with others who pay her for listing.
The BBB has lost its luster in recent years. It costs about $200 a year, and it doesn't mean as much to folks any more, just the older folks.
The Free Ones are worth getting on, but it's time consuming, and again, competitive:
Businessfinder.com
Manta.com
SuperPages.com
Yelp.com
Mobile Optimization
While the numbers vary by age of the user, it's a FACT that the number of mobile phones outnumber the desktop computer now. Only 8% of the folks in the 35-54 age group use the desktop exclusively, while 10% use the mobile phone exclusively. That leaves 82% who use multi-platforms. So, mobile is important, and your website should look good on your phone, but it's not the "end all, be all" that some would tell you for searches for professionals.
Please click on the following three 5-minute videos (15 minutes total) for a review of Local Online Marketing for Land Surveyors. These videos explain what we can and will do for you in helping to get your phone ringing with more and better work. (Videos will open in a new window. Close that window when you're done and come back here for the next one.)
Local Online Marketing for Land Surveyors: Introduction Video
Local Online Marketing for Land Surveyors: Keyword Research Video
Local Online Marketing for Land Surveyors: Contracting Our Services Video
As I said in the videos, the first step is identifying the keywords that your company needs to be found for. This is Keyword Research. For Land Surveyors, some of those keywords (as of Aug 2016) are:
land surveyor – 40,500 searches/month in the USA on average
property survey – 8,100 searches/month
surveyors near me – 5,400 searches/month
elevation certificate – 5,400 searches/month
ALTA survey – 4,400 searches/month
land survey cost – 2,900 searches/month
topographic survey – 1,600 searches/month
boundary survey – 1,300 searches/month
lot survey – 390 searches/month
For a more comprehensive list of keywords, click on this PDF File Link.
The next step is to do the work it takes to get the site ranked on the front page, called Search Engine Optimization (SEO).
As a test of what we can do for your company, try some of the above keywords in Google and add a city in the State of Alabama like… Huntsville, Oxford, Talladega, Dothan, Tuscaloosa, Auburn, Montgomery, etc. (ie. "land surveyor dothan alabama") In each of these cities we have created an Authority Website and gotten the sites ranked on top for most, if not all, of those keywords and more.
For a PDF of the slideshow that I created for these videos, click on this PDF File Link.
Again, call Keith TODAY at (888) 316-4124 to get started on the most successful local online marketing you can do.
Available Domains by State
FortPierceLandSurveying.com (FL)
PensacolaLandSurveying.com (FL)
PortStLucieLandSurveying.com (FL)
AtlantaLandSurveying.com (GA)
ColumbusLandSurveying.com (GA)
LaGrangeLandSurveying.com (GA)
NewnanLandSurveying.com (GA)
WarnerRobinsLandSurveying.com (GA)
GALandSurveyors.com – for links & city pages only
AuroraLandSurveying.com (IL)
ChampaignLandSurveying.com (IL)
ChicagoLandSurveying.com (IL)
ElginLandSurveying.com (IL)
NapervilleLandSurveying.com (IL)
CaryLandSurveying.com (NC)
ConcordLandSurveying.com (NC)
DurhamLandSurveying.com (NC)
GreensboroLandSurveying.com (NC)
HighPointLandSurveying.com (NC)
WakeForestLandSurveying.com (NC)
WilmingtonLandSurveying.com (NC)
Winston-SalemLandSurveying.com (NC)
AlbanyLandSurveying.com (NY)
BuffaloLandSurveying.com (NY)
RochesterLandSurveying.com (NY)
RomeLandSurveying.com (NY)
SyracuseLandSurveying.com (NY)
UticaLandSurveying.com (NY)
BrokenArrowLandSurveying.com (OK)
EdmondLandSurveying.com (OK)
EnidLandSurveying.com (OK)
MidwestCityLandSurveying.com (OK)
NormanLandSurveying.com (OK)
OklahomaCityLandSurveying.com
StillwaterLandSurveying.com (OK)
WoodwardLandSurveying.com (OK)
ChattanoogaLandSurveying.com
JasperLandSurveying.com(TN)
KnoxvilleLandSurveying.com (TN)
MemphisLandSurveying.com (TN)
NashvilleLandSurveying.com
BaytownLandSurveying.com (TX)
BryanLandSurveying.com (TX)
CarrolltonLandSurveying.com (TX)
CollegeStationLandSurveying.com (TX)
DallasLandSurveying.com (TX)
DentonLandSurveying.com (TX)
FortWorthLandSurveying.com (TX)
FriscoLandSurveying.com (TX)
FtWorthLandSurveying.com (TX)
GrandPrairieLandSurveying.com (TX)
HideawayLandSurveying.net (TX)
HoustonLandSurveying.net (TX)
LeagueCityLandSurveying.com (TX)
LongviewLandSurveying.com (TX)
McKinneyLandSurveying.com (TX)
MesquiteLandSurveying.com (TX)
MidlandLandSurveying.com (TX)
NewBraunfelsLandSurveying.com (TX)
PasadenaLandSurveying.com (TX or CA)
PearlandLandSurveying.com (TX)
RichardsonLandSurveying.com (TX)
RoundRockLandSurveying.com (TX)
SanAntonioLandSurveying.com (TX)
SanMarcosLandSurveying.com (TX)
SugarLandLandSurveying.com (TX)
TylerLandSurveying.com (TX)
TXLandSurveyors.com – for links & city pages only