As the kids say on text, WTH? Whiskey Tango Hotel? Why the H E double hockey sticks was I still working at 11:00 pm on Friday night? And why is my phone ringing again at 6:51 am on Saturday morning ABOUT THE SAME JOB?
Maybe this has happened to you – someone calls frantic, normally a realtor. They are at the closing or on the day of the closing and find out they need a survey.
"Nobody Told Us We Needed a Survey!"
Wait, you're a REALTOR, you went to the classes, all 60 hours of them. You passed the test. You took some more classes, another 30 hours. Now you have a license to collect about 1.5% commission on anything you LIST and/or SELL. You work for a BROKER, who gets another 1.5% commission on that same transaction. And you didn't know that you need a survey? Or, you don't want to advise your client that is buying the land that she NEEDS to know where the property lines. After all, she is spending $100,300 for this home and 9 acres of land. (Wow, that seems cheap, but that is beside my point.) Even at that low price, that is a significant investment. What if they want to put up a fence? What if their neighbor is encroaching? There's endless what if's. Just read the title insurance policy to see all of them. And, speaking of the title insurance policy, did you read the part that says if you don't have a survey they won't cover anything that comes up that a survey WOULD have found?
Did the buyer get a look of the tax map (above)? Did you look at the tax map? Did you see that there was 3800 linear feet of property boundary lines, with 11 sides? Did you see that it is ALL wooded? (And the Parcel number is unlucky #13, but you can't help that.)
OK, maybe you don't know why you should have a survey. That's my fault, or at least my profession's fault for not educating you AND the general public. Let me educate you – YOU ALWAYS NEED A SURVEY. You need a survey as much or more than you need a Realtor. Just sayin'
"Lot Surveys Are Normally $400"
Yes, I know "lot surveys are normally $400," or around that. This ISN'T a lot survey. A"lot survey" is normally a small lot, less than an acre, in a platted subdivision, which has been surveyed and pins set when the subdivision was done. This is a larger tract of land, over 9 acres, and we don't know if it has EVER been surveyed. A boundary survey is required. And, DID YOU LOOK AT THE TAX MAP?
"Why Is It SO Much?"
So, "Why is it so much?" Well, did you look at the tax map or the deed? "Realtors don't usually get the deed." OK, maybe you should, especially if you're the listing agent. That's worth at least as much as a picture of the property. So is a picture of the Tax Map. (Note to self, I need to tell you about the difference between a tax map and a survey map.) And, an old survey would also be great. If I were a listing agent, I'd round all of these things up, as well as maybe the flood map and have a picture of them on the listing. Us surveyors would LOVE you for it.
The Size and Shape of the Parcel Affects the Price Most
OK, the reason that it's so much is that this is a 9 acre parcel with 11 sides all in the woods. AND, you're wanting me to do the work on Saturday and Sunday. And then at 11:00 pm you tell me your client wants to get another price. (Remind me to tell you about how we also can't BID for survey work.)
Eight Years & Two Exams Passed To Practice Land Surveying
And, I'm a licensed surveyor. In Alabama now, that requires me to have a college degree in Land Surveying. Then I can take the first EIGHT hour Land Surveyor Intern test. Then I have to have FOUR years of experience working for another surveyor before I can take the EIGHT hour Professional Land Surveyor license exam.  When I took the test, I only had to have a four-year degree and 2 years of experience before I could take the 16 hours of exams. And, they only have about a 50% pass/fail rate.
Significant Equipment Expense
Now, let's talk about the equipment we have to have in order to do the survey. In addition to the two or three employees in the field and the drafter in the office, the equipment investment is significant. A surveying instrument setup to do a basic boundary survey is in the $20,000 to $35,000. Computer and Software adds another $5000 minimum. And, if you have GPS, and most surveyors need it now, that will set you back another $15,000 to $30,000.
Continuing Education
Then, there's continuing education, 15 hours each year. Most of us get way more than that. We have to stay on top of new technologies, we have to read the law and court cases, know federal, state, and local standards for doing our work, manage employees, handle mandated business issues, manage contracts and collections, and make "professional judgements" about where to set pins that can't be found.
Time-Quality-Cost Triangle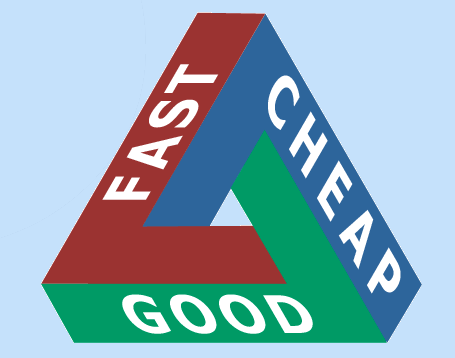 You may have seen the above triangle. This is a common pricing model for many types of service. You can pick ONLY two of these factors. In our profession, one of the factors MUST be GOOD by law. It is unethical for us to do a poor job on a survey.  So, you only choose between fast or cheap.
Good + Cheap = Slow
Good + Fast = Expensive
Summary
I'm NOT saying that my job is harder than yours. It's different. I'm not really concerned with what commission you charge. You should get paid for the work and value you provide, and most folks can't sell their house or buy a house without an agent. They could very well make a mistake worth more than the sales commission. I just want the same courtesy, to be paid for my knowledge, work, and value that is put into the survey of a parcel of land and to have you, as a real estate agent, understand the role that a professional land surveyor plays in the whole real estate ownership process.
J. Keith Maxwell is a Professional Land Surveyor and Civil Engineer in Alabama. He stays up late at night and wakes early to answer questions that frantic real estate salespeople ask, hoping to meet their and their clients needs and to gain a loyal customer for the future. He lives in a constant state of frustration.